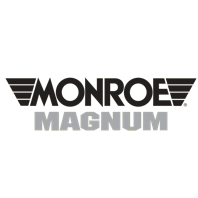 Monroe (U.S.)
Monroe was founded in 1920 in the city of Monroe, Michigan and has continued to lead the way in ride control component innovation with their shock absorbers. Monroe manufactures Continuous Control Electronic Suspension (CCES) systems as original equipment to Mercedes, BMW, Audi, and Lexus.

In 1977, Monroe was acquired by Tenneco, one of the world's largest automotive components original equipment manufacturers and an aftermarket ride control and emissions products manufacturer. Tenneco has over 90 manufacturing plants in 26 countries and employs over 30,000 people. Tenneco's customers amount to over 500 after-market wholesalers and 25 OEMs allowing it to record sales of 8.6 billion USD in 2016.

Monroe produces shock absorbers for both passenger cars and heavy duty vehicles and spends a fair portion of its revenues in research and development which has allowed it to produce innovative shock absorbers which uses no oil and kinetic suspension systems which reduce the risk of vehicle-roll-over. These products enhance the safety and control of road users.
Monroe Products
Shock Absorber / Damping : Passenger & Heavy Duty Truck Shock Absorbers and Struts , Suspension Systems , Computerized Electronic Suspension (CES) , Seat Shock Absorbers , Cabin Shock Absorbers